YOUR META WELCOMES YOU TO THE YEAR TWENTY-AUGHT-TWENTY AND ONE!
---
Welcome to hope, relevance, relief, self-awareness and
SELF-CARE-NESS!

We've brought you:
"SOMETHING DIFFERENT: MELANCHOLY IN THE AGE OF KALI'"
&
"The Cosmic Gargantuan: CreepyPasta Storytime"
AND we're still serving up music, mindful, and META: ALLLLL the things YOUR BLACK META does with
PASSION

AND

PANACHE

!
---
"In order to understand the world, one has to turn away from it on occasion."― Albert Camus
"Always go too far, because that's where you'll find the truth"― Albert Camus
"Nobody realizes that some people expend tremendous energy merely to be normal." ―Albert Camus
---
STATEMENT BEGINS... .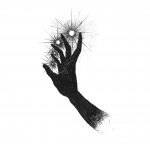 TheBlackMetaWKNY@Gmail.com