It's FED-UPRising 2020, and YOUR META is HERE FOR EVERY MINUTE OF IT, bringing relevance and relief, self-awareness and SELF-CARE...NESS!
---
We have THE INTERVIEW with yoga instructor extraordinaire and licensed massage therapist nonpareil―founder of Buddha Body Yoga (Buddhabodyyoganyc.com)―the utterly delightful, MICHAEL HAYES!

Michael Hayes, Founder of Buddha Body Yoga. Photo accessed by beetle, from https://www.buddhabodyyoganyc.com/, July 26, 2020.
WE'VE ALSO GOT. . . .
Afro-Pop from Osibisa, the late United States Representative and Civil Rights Grandmaster, John Lewis . . . and 'woyaya'!
---
Words of WISDOM and RELEVANCE:
JOHN & the PABLOS
"I believe there is something in human history, I call it the spirit of history. It's like a spring, a stream, that continues to move and individuals and forces come along that become symbols of what is good and what is right and what is fair."―Representative John Lewis
"I was inspired by MLK Jr, and Rosa Parks and others to get in the way. To get in trouble―good trouble. Necessary trouble. And we all must find a way to have the courage to get in trouble. To do our part. Every generation must find a way to leave the planet, leave this little spaceship . . . Earth, this little piece of real estate, a little better than we found it. A little cleaner, a little greener, and a little more peaceful. I think that's our calling. We have a mission, a mandate, and a moral obligation to do just that."―Representative John Lewis
"You, too, can allow yourself to be used by the spirit of history. Just find a way to get in the way."―Representative John Lewis
"Inspiration exists, but it has to find you working."―Pablo Picasso
"You can cut all of the flowers, but you cannot keep the spring from coming."―Pablo Neruda
"Don't be sad that someone has died, be happy that they lived." ((No credible attribution at this time))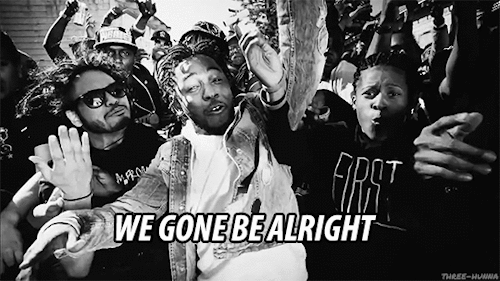 Gif from Kendrick Lamar's music video, "Alright." Found via google, accessed by beetle in 2019.
---
The FULL DISH!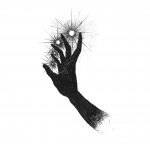 Resources, citations, and extras for TODAY'S SHOW can be found in the credits archive, here: July 28, 2020: "Mindfulness with Motion, Breath with Life . . . Namaste with Your Day; A Lot of Action and a Little Patience."
NEW META-FUEL PAGE: FED-UPRising 2020: Archive of Related Resources, Research, and Relevant Interests
Credits for all episodes are archived at: 'Bug's Meta-Fuel: Credits, Sources, Citations, and Extras for WKNY's "THE BLACK META"'
TheBlackMetaWKNY@Gmail.com